A month or so ago, I started including TheGoodBlogs widget in my sidebar. My blog was included with a number of others who blog about tech and marketing. MNIK's headlines were integrated with others and promoted on other blogs via the TGB widget. A version of the widget with annotations is shown below.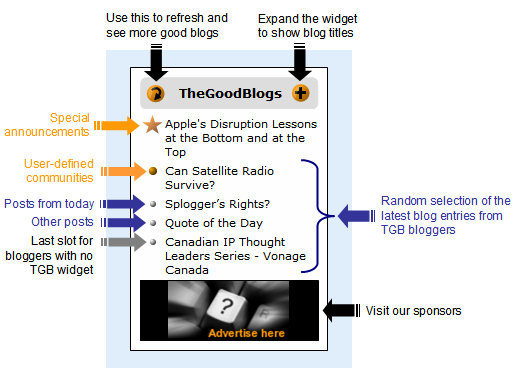 TGB has opened for public beta today; I definitely encourage you to sign up! Why? Top 5:
Exposure & traffic ... in my 6 weeks of using it, I've had over 38K exposures and 130 click thrus. And this is likely new traffic from people who might not have known about my blog.
Dead easy .. one of my fav things about TGB is that anytime you update your widget, the settings are saved on the server so you don't have to keep updating the code on your blog. Do it once and you're done!
New categories being added all the time ... even if you're not a tech or marketing blogger there is a category for you. Theatre, food, politics, "blog sisters". And more being added. You can also specify your own tags.
Develop good writing habits ... we all know that good headlines drive traffic. I've found that TGB makes me think about my writing; I only have a headline to grab some readers attention.
Vernon and Tony are really smart guys, and I think this thing will totally take off. Will it replace blogrolls? Dunno. But the traffic I've gotten and the traffic that I've driven contribute to the interconnectedness of the blogosphere in a good way.