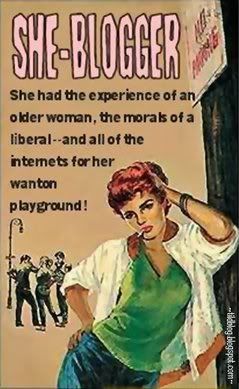 This awesome spoof of a pulp fiction bookcover is from Tild~ (hilarious .. Tild~ is one funny chick) who I found via SB's blogging blog (she blogs more frequently at Watermark).
This reminds me of the lesbian pulp fiction bookcovers that we used in one scene in our play, The Meeting, this summer. I love these things. Mainly because, even though they are from the 50's and 60's, a lot of people (particularly my American relations) still have this as their mental model for lesbian relationships.
When I first told one of my close female relatives about Roro and I, she asked *immediately*, "Is she older?". I laughed and said, "No, Patr, I'm the cougar in our relationship."